Lägg i varukorgen
Beställningsvara

(5-7 dagar för varor som finns i lager hos leverantören)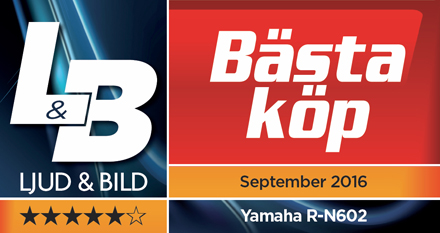 HiFi-receiver med nätverk och stöd för DSD 5.6MHz uppspelning. Kompatibel med MusicCast och fullpackad med smarta nätverksfunktioner. Näst intill obegränsade möjligheter till musikalisk glädje oavsett om du lyssnar på högupplösta musikfiler i nätverket, streamar från din smartphone eller använder internet streamingtjänster.

• MusicCast ger flexibel underhållning
• Streamingtjänster ger otrolig åtkomst till musik
• 5.6MHz DSD Native och AIFF 192kHz/24bit återgivning med högkvalitativ 24-bitars D/A omvandlare
• MusicCast CONTROLLER gör att du kan kontrollera allt från din smartphone eller tablet
• Trådlös musikstreaming via Bluetooth® eller AirPlay
• Bluetooth utgång för smidig musik streaming
• Digital USB anslutning av iPod, iPhone och USB enheter
• Pure Direct läge för högre ljudkvalitet
• Digital ljudingång för anslutning av TV eller Blu-ray spelare
• Eco läge och Automatisk avstängning

MusicCast

MusicCast is a new revolution in network audio, use all your MusicCast products together or separately, it's completely up to you. Control it, all from one app, designed to be intuitive, quick and simple to use. Use a soundbar, a wireless speaker, an AV Receiver, HiFi audio whichever suits you best, mix and match then expand your MusicCast system as time goes on. All new from Yamaha, the MusicCast system brings everything to everywhere for everyone.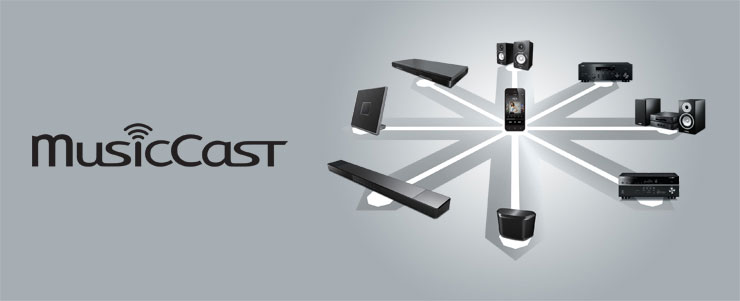 MusicCast Expands Entertainment Possibilities

MusicCast employs a high performance wireless network to deliver music and audio enjoyment. It can stream digital music content from your smartphone, PC or NAS to other MusicCast devices in your home. It can also share the music from external devices such as a CD player or TV connected to the R-N602. Audio content from Bluetooth-connected smartphones or tablets can also be streamed to MusicCast devices in multiple rooms.





Enjoy the Entire Spectrum of All Your Favourite Music Sources

The R-N602 is a receiver and network audio player in a single unit. You can use it to easily play audio sources downloaded from the Internet and stored on a PC or NAS system. Or, enjoy streaming music services and internet radio (with vTuner). Moreover, Yamaha's original MusicCast App allows you to enjoy your favourite tunes on a smartphone or tablet device via wireless connection.

Streaming Services Offer a Huge Range of Listening Choices

Support for the music streaming services Spotify, Pandora, Juke, Napster, Rhapsody and Sirius XM means you'll enjoy a wide variety of music content. Furthermore, support for the vTuner radio station database enables sampling of Internet radio broadcasts from around the world.

* Music service availability varies by region.

Wireless Music Streaming via Bluetooth or AirPlay

Enjoy music from your smartphone or tablet wirelessly using a Bluetooth connection. You can also use the convenient AirPlay function for wireless music streaming from iPhone or iPads. In addition, a Network Standby function providest he convenience of having the R-N602 turn on and off automatically.

Bluetooth Output for Convenient Music Streaming

The R-N602 is equipped with the latest Bluetooth technology, making wireless operation more convenient than ever. You can stream music from the R-N602 to Bluetooth headphones for private listening or to Bluetooth speakers.

Easy setup with your smartphone or tablet

Use your smartphone or tablet together with the MusicCast CONTROLLER app to operate the speaker and change settings quickly and easily. The same Controller app functions as a remote control for all your MusicCast-compatible devices too.

USB digital connection for iPod, iPhone, and USB devices

The R-N602 provides a USB port on the front panel for quick connection of an iPod, iPhone or USB stick. You have instant access to all your stored music, and the digital connection ensures that you hear it with the highest possible sound quality.

Gapless Playback compatibility

Many live and classical albums have no gaps in the music. Gapless playback ensures that there are no pauses between audio files. This provides playback with no interruptions, the way it was meant to be heard.

* Compatible with WAV, FLAC, AIFF and ALAC file formats, and input from USB / DLNA / DMP.

ToP-ART Sound Quality Design and Highest Quality Parts

Everything in the R-N602 has been built for maximum performance and high quality. The internal design utilises simple, direct transmission of the signals— ensuring optimum separation, elimination of noise and distortion, and pure sound reproduction. This includes dual independent power supplies for the two sound sources, analogue and digital, as well as Yamaha's original ToP-ART (Total Purity Audio Reproduction Technology) and Art Base chassis construction to fully protect audio signals from noise and vibration. Moreover, all parts and materials have been carefully selected and tested, to make sure they are of only the highest quality—so that they all work together to provide the absolute best sound possible.

5.6MHz DSD Native and AIFF 192kHz/24bit Reproduction with High Performance 24-bit D/A Converter

5.6MHz DSD Native Resolution and AIFF 192kHz/24-bit Reproduction with High Performance 24-bit D/A Converter To ensure maximum network audio quality, the receiver supports WAV/FLAC 192kHz/24-bit, Apple Lossless 96kHz/24-bit, DSD 5.6MHz and even the new AIFF 192kHz/24-bit formats. It uses a BurrBrown 192kHz/24-bit DAC that has a firmly established reputation for quality. You'll enjoy the beautiful sounds of high resolution audio.

Pure Direct Mode for Greater Sound Purity

Engaging the Pure Direct switch causes the audio signal to bypass the control circuits for bass and treble, balance and the back buffer amp. This improves sound quality while maintaining full output capacity. Shortening the signal route improves sound purity, helping to reproduce even the most delicate musical nuances.

Digital Audio Input for TV or Blu-ray Player

The R-N602 is equipped for digital audio input—with both optical and coaxial terminals. The optical is for receiving audio from a TV, and the coaxial for receiving audio from a Blu-ray player. The audio stays in the digital domain, giving you pure, pristine dynamic sound for all your entertainment sources, from sports and other programmes to movies and concerts.

Simple yet Sophisticated Design

With a beautifully simple and unique design inherited directly from Yamaha's HiFi audio components, the R-N602 also boasts an easy-to-operate button layout. The aluminium front panel has a richly textured silver hairline finish. The control knobs are also of the same luxurious construction as used on our top-end models. Both inside and out, everything about the R-N602 demonstrates our commitment to superior design and operability.

Eco Mode and Auto Power Standby

The R-N602 has an ECO mode that reduces power consumption by about 20%*, and an Auto power standby function that you can set to turn the power off after 2, 4, 8 or 12 hours.

* Compared to power consumption when ECO mode is off (Yamaha measurement).

Other Notable Features

• Continuously Variable Loudness Control
• Terminal for a Subwoofer
• Phono MM terminal for vinyl playback
• Screw-type speaker terminals
• 40 station FM/AM preset tuning
• Speaker selector and speaker terminals for two systems
Modellbeskrivning
Modell
R-N602
Tekniska specifikationer
Antal kanaler
2
Effekt per kanal
115 W (8 ohms, 1 kHz, 10% THD)
Analoga ljudingångar
Analoga stereoingångar (RCA)
4
Phono-ingång
Ja
Digitala ljudingångar
Koaxiala ingångar (S/PDIF)
2
Optiska ingångar
2
USB-ingångar
1 på fronten
Analoga ljudutgångar
Analoga stereoutgångar (RCA)
2
Subwooferutgångar
1
Ljudspecifikationer
D/A-omvandlare
192 kHz/24 bit
Mottagare
FM
Ja
AM
Ja
Nätverk
Wi-Fi (WLAN)
Ja (med Wireless Direct)
AirPlay
Ja
Bluetooth
Ja
Spotify Connect
Ja
Mått och vikt
Bredd
435 mm
Djup
392 mm
Höjd
151 mm
Vikt
9.8 kg