1 595 kr
Lägg i varukorgen
Lagervara (Skickas inom 1-2 arbetsdagar)
Takfäste för TV 32 - 55"

The new M Public Ceilingmount Medium White Single is a sturdy single flat panel ceiling mount with VESA adapters supporting VESA up to 400x400.
The M Public Ceilingmount Medium Single is ideal for any large screen ceiling application – whether TV viewing or digital signage.

Widely used in a variety of environments this ceilingmount is truly versatile and made with most aspects and installation situations in mind.

Change the screen from landscape to portrait by turning the screen without demounting it.

Highlights

• Portait or landscape position of screen possible by demounting.
• Includes VESA adapters for compatibility up to VESA 400x400.
• Variable tilt with locking pin mechanism for precise positioning.
• Integrated cable management routes cables through ceiling plate.
• Power click install for easy, fast and safe installation.
• Ceiling plate included.
• Complete hardware kit included.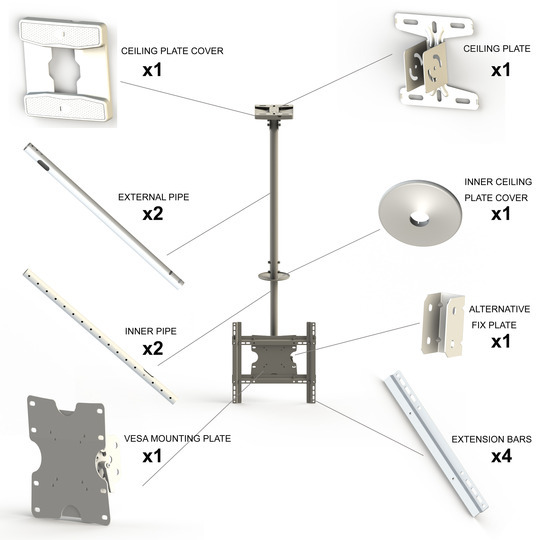 Färg: Vit
Modell
Public Ceilingmount Medium Single 3000
Artikelnummer
2198_7350073732494
Varumärke
Modellbeskrivning
Modell
Public Ceilingmount Medium Single 3000
Typ
Takfäste
Egenskaper / Kompatibilitet
Vridbar
-30º —+30º
Tiltbar
-5º —+15º
Gränssnitt höjd
Min: 860 — Max: 3130 mm
Min. storlek TV
32 tum
Max. storlek TV
55 tum
Universal & VESA standard
200x100 200x200 300x200 300x300 400x200 400x300 400x400 mm
Max. vikt
30 kg, tested up to 70 kg